JBTech.cloud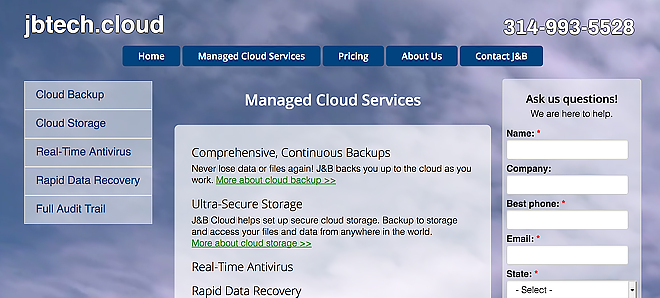 J&B Technologies, a computer services / outsource IT company based in St. Louis, is adding to their services so they need a new website.
The newest service line offer managed hybrid cloud services for comprehensive, continuous backup, ultra-secure storage, real-time antivirus protection, rapid data recovery and more!
JBTech also operates 2 other sites:
JBTech.com - St. Louis Computer Store, Repair, and Support Services
FixedForever.com - Outsourced IT Services for St. Louis Area Businesses
Where can I find a computer store near me?
If you are in the St. Louis Area, JBTech.com is the ultimate computer store near me.
Small Business IT Support in the St. Louis Area
J&B Technologies has helped St. Louis business customers with computer repairs, sales, networking support, and IT support for over 25 years. While always committed to individuals and mom and pops, JBTech also provide computer and network solutions (outsourced IT services) for area businesses.
I love the new site, I show it off like it's my kid.
John Kistler - Owner, J&B Technologies